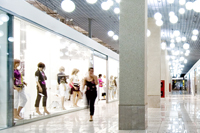 Never a dull moment… In less than a year since joining E.A. Hughes & Co., we've seen dozens of news stories about retailers in various states of disruption or distress. From Lululemon to Wal-Mart and everywhere in between, there has been executive turnover as retailers confront new realities of doing business in the era of "me commerce."
It can be tempting to join the chorus of voices focused on how technology has disrupted retail or how there's a talent shortage in fashion. Technology, talent, the economy… there's always something. What has been refreshing about my time at E.A. Hughes is our team's time-honored commitment to helping clients put the best executive teams in place.
How do we do that, if not by contorting ourselves into eCommerce experts today and global supply chain pros tomorrow? We start with a foundation built on our own years and depth of experience in the sector. As veterans and experts from consumer-driven businesses ourselves, we can easily understand the pain points and growth opportunities faced by retail, apparel, home furnishings and beauty executives. Whether the challenge is international expansion or eCommerce,  supply chain or a shortage of bench talent, the key is to have a partner who knows more than just the database of talent with resume items that match the problem du jour.
Regardless of the current crisis or opportunity, we partner with our clients to identify and recruit people that best fit the long-term, strategic growth plans of the enterprise. How do we do it?
We know you. With our own prior careers and expertise in consumer industries, we come hard-wired with deep understanding and passion for the sectors we serve. We take the time and have the skill to truly appreciate and understand the opportunities and challenges our clients face, whether it's making better headway with digital marketing or building a global supply chain.
We know the talent. We pride ourselves on knowing more than the names and resumes of top and emerging talent in the space. We take the time and have the integrity to build deep relationships. Our insights are more than skin-deep. We help our clients judge how a candidate will fit in a new position and organization.
We don't hold back. We share our insights and observations with candor. We tell clients when their expectations may be out of line. We raise red flags about people and plans, when we think they won't advance the strategic objectives of a firm. Fit is an art form. With our passion and experience in the field, we don't hold back when it comes to partnering to build the best executive team for a client.
The challenges faced by retailers will morph and change as technology and market conditions evolve. The recipe for survival and growth is having the best executive team in place to weather the storms, trail-blaze where others falter and execute on strategic plans. The technical skills and backgrounds of talent will change. What doesn't change is the importance of deep and specific evaluation and understanding of the talent pool with regards to fit for your organization.
I want to thank past, current and potential clients for your trust, your teachings and your friendship. I look forward to the rest of 2014, 2015 and beyond. Whether I'm helping clients deal with the challenges of digital commerce, supply chain or succession planning, I know that our deep-dive approach to candidates and clients will help us execute on our mission to build outstanding executive teams for our partners in retail, home furnishings, beauty and beyond.
https://www.eahughes.com/wp-content/uploads/2013/12/retail-shopping-center.jpg
133
200
Ann MacCarthy
https://www.eahughes.com/wp-content/uploads/2019/01/EA_Hughes_logo4.png
Ann MacCarthy
2014-06-04 06:00:30
2014-09-26 16:06:22
An Insider's View: Six Months at E.A. Hughes Retail Executive Search Partners