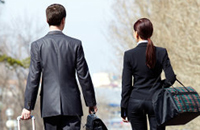 Vacancies and churn in the C-suites of major retailers have been grabbing headlines for more than a year. I spoke recently with CNBC (Help Wanted: These 9 retailers need a CEO) and The Wall Street Journal (Big Retailers Find It Hard Shopping for a CEO) about the problem. The number of retailers seeking new leaders is the highest it's been in five years. If you're responsible for the navigation of any consumer-driven business, the solution to this troubling trend is in your hands.
Does your company have a succession plan? Is there a coherent strategy for executive development?

Do you have a wide and deep bench of talent either corporately or in individual divisions?

Are quarterly reviews and assessments conducted of the "high potentials" within your company?

Do you groom up-and-comers by rotating them through different positions and geographies?

Do you have high-functioning teams, rather than just individual contributors?
Wall Street may be fascinated by the "single genius" at the helm of a retail brand, but reality and changing trends make teams the better long-term bet. Consider Jenna Lyons and Libby Wadle at J. Crew or Glen Murphy and his global team at The Gap. With highly effective teams, backed up by strong bench talent in all key functions, you make your company less vulnerable to stock dips and loss of consumer confidence, when it's time for your single-genius CEO to go.
My recommendation is that CEOs and corporate directors dig deeper and devote laser focus to their firm's succession planning. CEOs and CHROs should be held accountable for robust succession plans that they regularly update and report to the board. The plans should not only focus on the high potentials but also the process by which you identify the strengths and weaknesses of key players. Many internal candidates will rank high when it comes to the metrics of the business, but their ability to communicate, listen and lead may need to be critically assessed.
Retailers have sometimes sought CEO candidates from CPG, hospitality and financial institutions because those industries are perceived as having developed better leaders. I believe every industry has the opportunity to identify, nurture and develop leadership, but it requires tremendous discipline. The attention to this process has to go hand in hand with the daily challenges of running the business.
Succession planning should be an ongoing activity — not a fire drill when you have to axe your CEO or react to an unplanned departure. My partners and I are happy to advise on best practices in succession planning. Plans, processes and people need to be in place and moving strategically in a well-choreographed dance with your firm's long-term vision and strategic objectives. Personalities and culture in the retail space can make it a challenge, but the high stakes of the alternative (i.e. not being prepared), should put this item high on any management's agenda.
https://www.eahughes.com/wp-content/uploads/2014/08/board-director-advice.jpg
130
200
Elaine Hughes
https://www.eahughes.com/wp-content/uploads/2019/01/EA_Hughes_logo4.png
Elaine Hughes
2014-09-19 14:54:45
2014-10-01 12:52:28
Advice on Retail Succession Planning