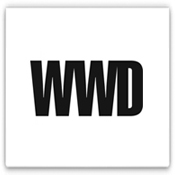 Excerpt from WWD.com – April 23, 2013
Elaine Hughes, owner of E.A. Hughes, an executive search firm, said, "Any company, especially one that's publicly traded, where there's a stall in stock price and comes a resurgence of a new brand, like a Michael Kors, when you have a change of the ceo at the top, it impacts everything."

She said that Krakoff was an integral part of taking Coach from a leather resource to a multifabric, diverse handbag, small leather goods, footwear and apparel firm. "There are no names that pop into my head as an overall creative director because there isn't a singular individual in any multibillion company that does it. What Reed has that is unique is he not only had a great aesthetic sense and an understanding of raw material, but he also had a good business head," said Hughes.

"Reed, like a John Varvatos, started his career at Polo Ralph Lauren. What they saw was a creative genius that kept his hand on the product. Everything had to be approved by Ralph. That is very similar to how John Varvatos runs his business, and how Reed runs his business. There are very few people who do that, who are not a principal of a company. You can't look at Tory Burch and say she's a possibility because she owns the company.…Vince Camuto is a design genius, but he owns the company….It could be somebody from Europe. Europe has a lot of visionary talent. It's a matter of who can calibrate to that and how do you commercialize that to billions of dollars," said Hughes.

She said that under Luis, there will be an evolution of the Coach culture. "He's a global thinker, he's a very collaborative guy, and no matter what the company is, the culture stems from the ceo office," she said.
Reed Krakoff Exiting Coach to Focus on Own Line
Article by Alexandra Steigrad with contributions from Marc Karimzadeh, Lisa Lockwood
https://www.eahughes.com/wp-content/uploads/2014/09/WWD-Logo1.jpg
175
175
E.A. Hughes
https://www.eahughes.com/wp-content/uploads/2019/01/EA_Hughes_logo4.png
E.A. Hughes
2013-04-23 22:12:13
2014-10-09 11:55:27
Reed Krakoff Exiting Coach to Focus on Own Line